We are asked a thousand and one different questions about what we do. Here are a few common ones.
What are your opening times?
Our Melbourne showroom is located at:
39 Bridge Road in Richmond,
Melbourne, Victoria, Australia 3121
And is open Friday 10am-5pm and Saturday 10am-4pm.
We have fitting stock for our shoes and boots at our Melbourne store for all the styles so if you're considering standard sized footwear, the Melbourne shop is currently the best location for this.
Our Ballarat showroom is located at:
Shed 1
20 Elizabeth Street
Delacombe, Victoria, Australia, 3356
And is currently open Fridays 10am-4pm and Saturdays 10am-4pm.
At Ballarat we have limited fitting stock. More specifically, we have the following available in Ballarat:
Jack and Jill Gusset boots
Gordon Boots in all toe shapes
Charlie Boots dress and boot toe
Wilson Shoes and Penny loafers for men and women
Bob and Bobette for men and women (mens from 7-12) Please note if interested in shoes, we do not have the appropriate fitting stock to try on at Ballarat. Shoe orders (other than Wilson and Penny) would need to be tried on at our Melbourne store.
Will you close for Christmas/Summer holidays?
Indeed we will and we'll be doing some renovations to our shop during the "break". Our last day of trade will be Saturday 23rd December for 2023 for both Richmond and Ballarat. Our first day back at BALLARAT will be Friday 19th January due to renovations. Our first day back at RICHMOND will be Friday 2nd FEBRUARY due to renovations.
Do I need to make an appointment to visit your shop?
No. If you are just wanting to try on our standard footwear range, the Richmond shop is typically where you should head and no appointment is required. The Richmond shop hours are Friday 10-5 and Saturday 10-4.
Our Ballarat store has a limited selection of footwear, namely our lower heeled boots like the Gordon/Charlie and Jack/Jill. To see which products are available to try on at which store, see the individual product on our website to see where the Fitting Stock is (Melbourne or Ballarat). Ballarat is open Fridays 10-4 and Saturdays 10-4.
Which store (Richmond or Ballarat) should I go to if I want to try on a specific style of boot/shoe?
We often have customers wondering which store (Richmond or Ballarat) they should visit in order to try things on (we call these our fitting stock) to work out their size before placing an order. To help make things a bit simpler, we have made a tag on the website so that it shows where Fitting Stock is (what you will need to try on to determine your size) for what style on the main Shop page. If you scroll down to the Boots or Shoes you're interested in, under the thumbnail image of the product will be a little box which will tell you which store has Fitting Stock to try on. See image below as an example.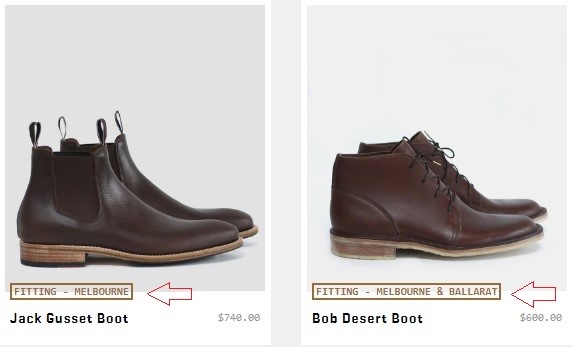 To summarise, our Richmond store has fitting stock for everything, ie: all our styles, shoes and boots. Our Ballarat store will focus mainly on our low-heeled boots, such as the Gordon Boots (all toe shapes) and the Jack Gusset Boots for men, and the Charlie Boots and Jill Gusset for ladies.
I live closer to Ballarat. Why do I have to go into Melbourne to try on certain shoe/boot styles?
Certain styles of ours are more popular than others. For example, the Gordon and Jack Gusset boots comprise roughly 80% of our footwear orders. On the other hand, some ladies styles, we may only make a handful of a year. At the moment it is too costly for us to produce duplicates of our fitting stock for these less popular styles for Ballarat when the demand isn't there, especially when a trip to Melbourne is not too far away in any case to try things on.
Do you take measurements of feet?
Instead of using a tape measure to take dimensions of your foot, we use shoes or boots in our shop that we call 'fitting stock' that we have you try on in order to work out what your best size is. Some of our lasts come in different widths and for certain styles (like the Gordon and Jack boots) there are a couple of different toe shapes to choose from. We've found the best way to work out what feels right (as we can't feel what you feel) is to have you try things on and walk around. This gives us an idea of how the style fits and works under dynamic wear, which is something we can't obtain with measurements. We can also understand certain parameters about your feet (eg: wide mets, narrow heel, high instep) and what styles might best suit you from seeing you in other styles as well.
How does the whole process work for shoes/boots?
Are you carrying other goods at your Ballarat store?
Yes! As we have more space at our Ballarat store than we do at Richmond, in October 2022 we launched our new shop spaces, which combine our leather goods and footwear with other beautifully made products from friends and some awesome makers. These include:
Bridget Bodenham ceramics
Pene Durston knitwear (gloves and beanies) and Ballarat pendants/banners
Humphrey Law Socks
The Knit Studio Beanies with Wootten branding
Carlisle Hats styles specific to Wootten
Hills Hats wool caps and fedoras
Melbourne-made T-shirts
Well Drawn gift cards
Travis Price Illustrations/prints
I'm trying to contact the Ballarat workshop but only your Melbourne number is listed (03 9510 6503). How do I get in touch?
Whilst the number listed is a Melbourne number, technology is a wonderful thing and we are able to port the number to the location where we're at. During the week we have the number ring through to our Ballarat workshop when the shop's closed. When the Richmond shop is open, it's directed to there. Please note we typically aren't available to answer the phone on Sunday and Monday (our days off, so no one's there) and may be less available on Tuesday (blame the child).
I would like to have a bespoke/custom accessory made.
Please Note: We are not currently taking custom accessory orders as we are too busy with our own footwear/accessory production.
As an alternative we can highly recommend Martin Carswell of Carswell Leather. He is Melbourne-based and specifically does custom accessory work. Please note he may have a very long wait list. Carswell Leathergoods
T: 0409 942 195
E: martin@carswellleathergoods.com
Do you do repairs?
We only do repairs to shoes/accessories that we have made ourselves. Unfortunately we do not have the time or the room in our workshop to do other repairs. We would recommend the following repairers:
Hamid Zapatero (0467 512 305) at 260 Glenferrie Rd Malvern 3144
Evans Shoe Repair in the Royal Arcade in Melbourne CBD
Condellos at Barkly Square in Brunswick
Sturt Street Cobbler, 113 Sturt St, Ballarat Central Town & Country Cobbler Shop in Waurn Ponds On The Mend Shoe Repairs in Fitzroy
Do you make all your leather goods?
Yes. We actually make all of our leather goods. We make all of the footwear, bags, leather aprons, leather accessories and shoelaces out of our workshop in Ballarat and shop space in Melbourne.
The shop in Melbourne is where our customers come to look at and try on our standard footwear range and leather accessories. We have a smaller range of footwear available to try on at our Ballarat workshop (please see each individual footwear item to see where fitting stock is available).
I saw a pair of shoes on your website, can I have them in another colour?
Absolutely. This is part of our Heritage service. We have hundreds of colours and finishes available. The best way would be to come into the shop and see the swatches we have available. Otherwise get in touch and we can see what we have available.
What's the difference between the Original, Classic and Heritage ranges of boots you list on your website?
Originals These are our Ready To Wear boots made in batch production. They are exchangeable and are aimed at being readily available, whether you are able to come into our stores or are buying online. They are a limited collection of our most popular styles in one configuration (ie: not customisable). Eg: Our Gordon Boot Original comes in one colour (Saddle Tan), McKay Welt Rubber sole and raw wax finish. The only option you have is to choose the size range (8AU to 11.5AU for the Originals). Stock levels should be correct on the website.
Classics This is where the personalisation begins with our Made-To-Order service. We have distilled the most commonly requested of our broad collection into our Classics range. They offer you the choice of sole type and edge finish, width fittings and toe shape and upper colour so you can personalise your boots to suit your style. Eg: The Gordon Boot Classics have five colourways to choose from, sizing from 6-13, D or E fittings, two toe shapes, and two sole outsole materials. To have more options than this you are looking at our Heritage range. These boots are not exchangeable.
Heritage We've been handmaking footwear to order for the best part of fifty years. The concept of our Heritage range is steeped in Bespoke and Custom footwear, where the door opens to our broad customisation options and the design service which accompanies it. We take great pride in walking you through the myriad options available to truly produce a boot that is uniquely yours. Eg: The Gordon Boot Heritage comes in four different toe shapes (Cameron, Gordon, Stanley or Cambridge), all sizing and widths, hooks and eyelets, bound or raw toplines, various rubber or leather soles on offer as well as allowing for padding on the inside if need be. This is the most popular category for what we do in our boots. These boots are not exchangeable.
Can you personalise my leather goods?
We certainly can but are limited in the emboss/deboss department if you are after a particular font or size. Our standard deboss tools are small capital letters.
What is a Cordwainer and how are you different from a Cobbler?
A Cordwainer is a shoemaker whereas a Cobbler repairs shoes.
I live interstate or overseas, can I still order shoes/boots from you?
You can, but as you are not able to try on the footwear in person, there is an element of risk involved with ordering, as our made-to-order footwear is not able to be returned if you ordered the incorrect size. If ordering online, we would get in touch with you via email to ask what parameters you used to get your foot size and double check everything to reduce this risk as much as possible. We have a size chart to compare your measurements with, but it is also useful information to understand how you fit in other boots/shoes/runners etc, in order to try and get the best fitting possible for you.
Do you stock other brands of shoes?
No. We hand-make all of our shoes to order in our workshop and the examples and fitting stock are the only ones we carry.
Can you copy my favourite pair of shoes?
This would be classified as bespoke, which is a service we currently have a hold on since June 2021. For more information on 'Bespoke footwear' please see below for clarification on differences in pricing and timeframes. Please note there are styles that we prefer to focus on and we may direct you to another cordwainer if the style/construction is more suited in their direction.
What is the difference between made-to-order, custom-made and bespoke footwear?
Made-to-order: This footwear is our standard fittings and designs which means less tailoring to your personal foot measurements, but you will still experience the same quality hand made product.
Custom-made: This footwear is using our designs and making minor adjustments to tailor the fit. This is only part of our Heritage service and can only be done in store.
Bespoke: Is creating footwear that is to your exact specifications for design and fit.
What price do you estimate custom shoes to start at?
PLEASE NOTE: As of June 2021 we are not currently taking on any new custom/bespoke orders due to needing to catch up on the existing workload.
For clarification of our categorisation, please refer to the above definition of made-to-order, custom-made and bespoke.
Custom-made: This is for shoes/boots based on our designs off the website but customized to fit your foot. Customised footwear can be between $1100-$1600 on average. Typically the extra cost is between $150-$700 from our standard pricing. Please note this price guide will vary from customer to customer, the leather chosen and the soling details which can push this price higher in certain cases.
Bespoke: Bespoke shoes typically fall between $1500+ for your first pair. Above the ankle and knee high zip boots are typically between $1800+ depending on leather chosen, construction method and fit, which can push this higher. Boots above the ankle generally require a mock up to be made to make sure the shoe will fit around your leg and foot, which adds time and cost to the process.
Please note that orthopaedic footwear can be higher than this in the range of $2000+ for more complex fits, if we are making the orthotic, as well as using casts for measurements and construction.
All the pricing factors depend greatly on the measurements of the customer, the leather/s chosen, the method of construction and the finishing details. We will try to give you as rough a guide as possible over the phone or on email based on your design but a final quote can only be given with an appointment after measurements and all the design details have been defined.
One point we like to make with our initial customers is that a first pair of shoes is an investment as there is the set up cost of a last, pattern, fitting etc. These costs are then not applicable to a repeat pair of shoes using the same last (same toe shape and heel height) and pattern.
Why is there such wide variation in prices for shoes?
All our footwear is handmade in our workshop in Ballarat however there is wide variation in the amount of work required for each unique pair as well as variations in cost of leather type, sole requirements and fitting requirements.
Basically the more time, individual tailoring and use of high end products will mean that the shoes will increase in price.
Our shoes/boots that undergo the Veldtschoen construction method (the Bob Desert Boots, Wilson Derby, Banjo Boot and Penny Loafer) skip the 'lasting' process, which means they go through production a little quicker than everything else, hence why their price is on the lower end compared to the other shoes and boots.
I was told not to buy shoes online.
There are a few key factors to consider when buying shoes online. The fitting of the shoes is the most important thing. We would always recommend coming into our store so that we can help you through the fitting of your new shoes, deciding on the last and style that best fits your needs is important. If you can't make it in and would like a pair then read through our fitting information closely.
Every style and last fits slightly differently so it is important to take this into consideration. Also if you wear your shoes slightly loose or with a thick sock then you may want to go up half a size from the standard fitting.
If after reading through the fitting info or if this is the first time you have purchased from us and you're still not sure what size would be best for you then feel free to call email or drop in to discuss what you might need and we will be able to help walk you through the process.
How long do your custom shoes take to make?
PLEASE NOTE: As of June 2021 we are not currently taking on any new custom/bespoke orders due to needing to catch up on the existing workload.
Normally our custom/bespoke shoes take around 6-12 months from when we receive the deposit to when they are ready to take home. All the time factors greatly depend on how many customers are in the queue already, whether you need a custom last, a mock up to be made or several fittings. Timeframes can be pushed out further towards Christmas when we get busy with accessory orders.
As a guide, after customers have paid their deposit for custom/bespoke footwear, we would typically see them between 5-10 months after that, and then once the fitting is confirmed soling take between 1-2 months for completion.
What is the difference between the leathers you mention on your website?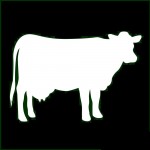 Bovine leather is the standard leather we use for our accessories and boots. It doesn't have as smooth a grain as our other leathers nor come to as high a shine. It is however a robust choice as long as it is maintained regularly with creamy-based conditioners and waxes to keep the leather nourished. Our bag leather is vegetable-tanned whereas we prefer to use the chrome-tanned leather for boots and shoes as it is more resilient to negligence and has better durability in the long term for something that goes under dynamic wear.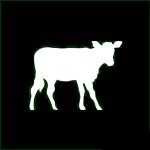 Yearling is a younger version of bovine leather and has a smoother finish overall while still maintaining good body/weight to the leather. Our Italian yearling leather is chrome-tanned so will be more resilient with wear. It still needs to be maintained with creamy-based polishes and can come to a nice shine with some elbow grease. It also dyes more readily depending on the desired effect. This is our preferred choice for an everyday sort of shoe. Yearling typically adds $45 to a shoe, or $60 to our ankle boots.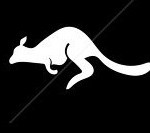 Kangaroo leather has more texture and character and has a very strong fibre structure for its weight. Colours can be limited however (please see billfold wallets or cardholders as examples of colour). Kangaroo can come to a light shine and will be resilient with good maintenance and care to nourish the leather. Most of our kangaroo leathers are vegetable-tanned, which can be quite boardy and good for accessories, but can be too dry for footwear as they are more prone to cracking if neglected and not conditioned quite regularly. There are limited chrome-tanned versions available. Kangaroo typically adds $45 to a shoe, or $60 to our ankle boots.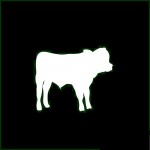 Baby calf leather is like the cashmere of leather. It is the most beautiful, is very fine and delicate and is an ideal choice for high gloss potential and formal occasions. It does however require the highest maintenance (regular care of the upper leather) and should not be worn as an everyday shoe. Baby calf typically adds $80 to a shoe, or $120 to our ankle boots.