Here are the many variations of sole types we have on offer that we can apply to many of our shoes.
McKay Welt (Blake Rapid)
McKay Welt (also known as the Blake Rapid method) is the common name for a sole that is constructed with a blake stitched mid sole and a welt stitched outsole. It is a very durable construction and gives a similar finished appearance to a goodyear welted shoe, albeit more durable due to the security of the two stitches, rather than a fabric gemming as employed by the alternative.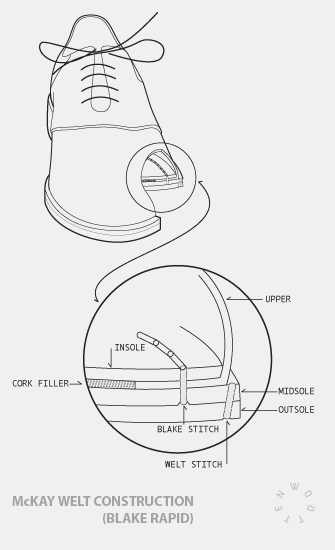 Blake Stitching
Blake Stitching is typically used by Italian shoe makers. It is a stitch that goes through the inner sole and outsole. It allows for a thin and flexible stitched sole and minimal profile. This makes for a less bulky looking shoe with a soft and flexible leather sole. It is slightly lighter than Blake Rapid construction but is slightly less durable and a little more difficult to repair.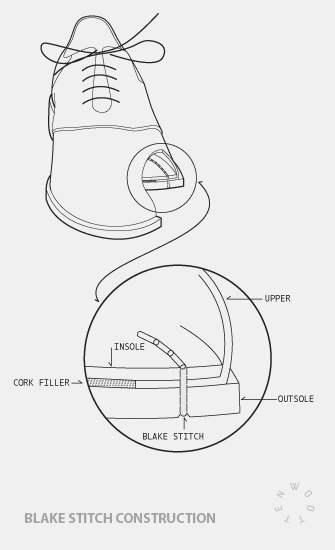 McKay Welt Rubber
This is the same durable construction as the standard McKay Welt (Blake Rapid) method, but instead of using a 4-5mm leather outsole we use a rubber outsole. It is a perfect construction for someone who is very hard on their shoes as it is easily repaired.
Why McKay Welt (Blake Rapid) and not Goodyear Welted?
We use the McKay Welt method for soling for a number of reasons:
It is more durable: McKay welted boots employ a blake stitched midsole, which is stitched through the upper and insole creating a mechanical bond between all of the layers of the boot. Typically a Goodyear welted boot's welt strip is stitched to a fabric gemming which is only glued to the insole. This means that there is no mechanical attachment of the outsole to the insole, allowing for failure over time. The midsole on a McKay welted boot also acts like a shank cover, producing a boot with more torsional stability through the arch and midfoot, allowing for more support in this area. Goodyear welted boots are typically filled with cork in this area which will allow for movement and break down over time.

It is more easily repaired: Over time a goodyear welted boot's gemming can detach from the insole (as it is glued, not stitched), which means that the outsole is actually what is holding the boot's components in shape. If the outsole is removed then a relasting of the upper may be required. With McKay welted boots and their full leather midsole, we are able to remove the outsole without compromising the structure of the boot, meaning that the outsole can be easily replaced.

We are able to produce a blake stitched construction and the more robust blake rapid construction using the same techniques.